Hicks Donuts
Not sure if I'm going to be able to pull off a full week of updates or at least the new weekly standard of four updates, if I'm lucky to find enough material to write about. School is kinda nagging me right now.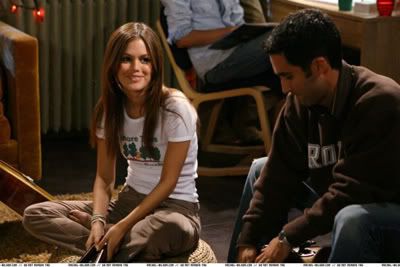 In case, anybody was wondering, I have yet to watch a new episode of "The OC," and probably won't watch a new one in the near future either.
Rob
in B
rown
said it was "weird" the other day via a text message.
Jay Z's lead single for his comeback album should've been
"Lost Ones"
as opposed to the back to back Just Blaze produced, "Show Me What You Got," and "Kingdom Come." Sure if anybody else was on either one of those Blaze produced songs, it would've been pretty hot. Yet since, it's Jay and Blaze, it needed to be better than that. Am I the only one who remembers "Public Service Announcement" from "The Black Album"? Also, why is everybody making a big deal about how Jay is being introspective and reflective on a record? I mean, haven't they ever heard a record with
Slug
on it?
Granted, I had to pull out the
Monty Hall
card in order to see the film again, but
Borat
still holds up a second time around. I still laughed fairly hard at the same jokes I laughed at nearly six months ago. More importantly, the theater was fairly packed for a late Saturday afternoon matinee and they were laughing extremely hard too and quite often as well. You see, I think that this one of those rare instances where internerd buzz actually helped a film succeed at the box office. With that other film from this past summer was ruined by
hype
,
Borat
wasn't because, well, we kept on writing about it and people who look to blogs as tastemakers, saw that we as a whole were really into this whole Borat business, so they kept on talking about it and well, this crazy thing happened where the final product was actually a masterpiece. I'm just wondering what's going to be on the DVD. I'll try to watch it one more time between now and then, but I'm looking forward to the DVD; cause there's a scene in the trailer where Borat is in a civil war reenactment and I feel compelled to watch it.
Also, does anybody else think that with the success of the film, more people will go and get the "Da Ali G Show" DVDs and in a way, potentially ruining the beauty of the Bruno film?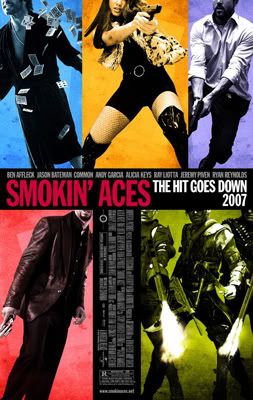 The trailer for
Smokin' Aces
I saw before
Borat
is a work of art. It can be viewed
here
. I don't know if writer/director Joe Carnahan got into my brain one night while I was asleep, but thankfully, he answered my thoughts and provided us with what appears to be the other half of the double feature that Tony Scott started last year with his much maligned and an skeet on… empire favorite (and not because a professor I had who gave me an A in his class worked on it)
Domino
. It also looks like what Wayne Kramer was attempting to do earlier this year with
Running Scared
, which I would've caught if it wasn't for Paul Walker as the male lead and I may check it out over winter break, but that's besides the point. The trailer its self is a throw back to the days of grind house trailers; if this film was made in 1974, it'd be a perfect fit right in between the trailers for
Rolling Thunder
and
Kiss The Girls and Make Them Die
on
42nd Street Forever: Volume 2
, but at the same time, it has that really, weird desperate, 'let's try to be cool like a Tarantino film' 1995 vibe to it. Lot of fairly good actors playing bizarre and unusual characters. At first, it feels like I don't want to say this, but it felt like a Guy 'I've never seen a Tarantino film' Ritchie, but as soon as the drums from the DJ Shadow track, "Artifact" slams across the speakers, you realize that you're watching the trailer for a film that'll be magical and with an extremely large body count. Honestly, it's the best use of DJ Shadow's music in a film that I've ever seen. People may take a shit on them, but there's a certain degree of artistry in making an action film or at least an action film that's worth our time. And because it's such a good looking film, it's rather easy to ignore the fact that a person like Ryan Reynolds is in it.
And well, we need a film like this because by looks of it, the new Tony Scott film,
Déjà vu
took some ADHD medicine or something.
And finally, this goes out in particular to the California kids, who happen to be register voters. I'm pretty much voting down party lines; I got a thing in the mail from
Dianne Feinstein
and the
Dems
telling me how I should vote and most part, I agreed. Most importantly, I agreed with the Dems position of
No on 85
. That's pretty much the only reason I'm voting this week; to vote no on 85. We can't sleep and let California turn conservative all of a sudden. Granted, Arnold will sadly be re elected as the governor because everybody loves that joke, but let's just stop there. Let's keep things crazy out here. Vote No on 85 and elect
Jerry Brown
. I bet if Cory Kennedy Gallo endorses a candidate for this election, more people would get out and vote this year.