Pier Pressure aka Velouria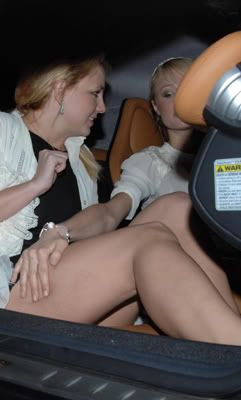 I've been cranking out pages for a class late into the evening. In other words, my mind is else where. The Only thing on my mind, other than my frustration and small degree of contempt for the film,
The Comebacks
or at least, I think the production is called
The Comebacks
. Anyways, I'm upset at the production because their base camp (trailers, craft services, make up, etc) took up an entire portion of my school's parking lot, forcing me to park even further into the boonies than usual. Like I haven't had to park this far way since late August. Perhaps, I'd be more forgiving if I had seen one of the film's stars, but I digress.
It should be noted that I still love the studio behind
The Comebacks
,
Fox Atomic
. They're doing great things and if they're looking for a cheap, weird teen script, contact me.
Any ways, the only thing that I wanted to say was and it's probably been said before, but the best part of these Britney Spears' upskirt photos is the c-section scar. Sure, these incidents have put a rock the size of Gibraltar in the middle of her comeback plans, but at the same time, here we are talking about her again. She must be doing something right. Cooter cappers get computers putin' to paraphrase Cam'ron, if you will.
Another piece of very important news:
David Gordon Green to direct a Judd Apatow produced comedy co written by Seth Rogen
. This could be amazing or it could be very bad. David Gordon Green, an extremely poetic director with a keen eye for visual storytelling doing a major studio film about pot smokers. Even if it's bad, at least, it'll look amazing. Not to mention Judd Apatow is producing more films; I think he's one of the writers who taught what was funny back in the days of "The Ben Stiller Show."
Also, without spoiling it because I'm an episode behind, but was the finale of the Hearst rapes story arc good on "V. Mars"? I want to believe it was good, but I've lost so much patience for the story line that I don't really care any more.