The Prelude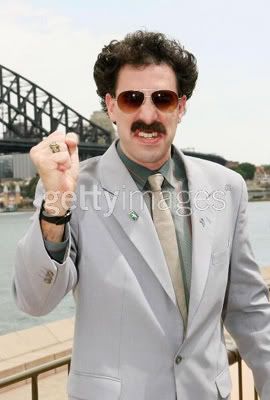 Hopefully, this will be the last mention of
Borat
until the DVD comes out. It's amazing to see
how well the film continues to perform
. It's playing well and hopefully, people are digging it. Or has the
Little Miss Sunshine
esque backlash already started? That's besides the point any ways, what's important is the amount of money they're going to make off DVD sales. I don't know why I remember this, but I was at the physical, real life version of
DVD Planet
and a couple of people walk in and out of the store, visibly frustrated because the store had just sold out of
Napoleon Dynamite
and the DVD had only been out a couple of days. The thing is going to move fairly quickly, but what's the worst part about it, is that undoubtly Fox will release a couple editions of the film on DVD. There'll be a regular version that'll be labeled as uncut & uncensored with maybe a couple more minutes added back in, a couple of deleted scenes and a behind the scenes feature. Then around Christmas time 2007, there'll be the deluxe two disc "Wow Wow Wee Waa!!" edition with even more deleted scenes and best of Borat's appearances around the world. Maybe even a whole other film cut together from deleted footage; probably enough to do that. Either way, I'll probably be a sucker and buy however many editions that they release of the film onto DVD.
Also, Borat's success is just setting up the enviable failure of the Bruno film. Not sure if the rest of America is ready to laugh at their homophobia just yet. Then again, it can be an "Ich don't think so" moment.
In case you aren't hip to leaked material and what not, but the new Bloc Party album is out there. Good, but not great. Needs another listen or two, but there's no song on there that'll commands your attention the way "Banquet" did all those years ago.
Also, that new Jay record is out there. While I haven't heard the whole thing; just little bits of each song, but I can safely assume that it's a shitty comeback. Remember how after the brilliance of "The Blueprint," Jay-Z released that really shitty double album, "The Blueprint: The Gift & The Curse," with way too many guest appearances and just as shitty production save for "Excuse Me Miss". Then the next year, Jay released "The Black Album," and I don't believe I need to say anything else. With "Kingdom Come," it's "The Gift & The Curse," all over again in spite of having most of the album produced by Dr. Dre & Just Blaze. Too many kids singing the hooks or something. Although it should be noted that the album's opener, "The Prelude" reminded me of one of my favorite Madlib tracks: "Axes Puzzles" off of "The Unseen".
Sidebar will be updated later.