Rattled by the Rush
Does a Lindsay Lohan cameo on the Cobrasnake signal the end of captions or at least me doing captions? Granted, it's been a mean while since I've done a caption, but how interesting or exciting is it going to be to link to a photo of some kid wearing a Palestinian scarf at the beach or some drunk girl at Cinescape with her boobie hanging out. Where do you go from here? America's favorite or at least new favorite occasional ginger headed actresses drinking and being one of the few people bold enough to admit in such a high profile forum that she actually likes the music of Mickey Avalon? You know, where do you go from here? Sure, there could've been photos of her chopping white up with Flavor Flav and Pete Wentz, but if such photos existed then what would people actually dream about at night? I know that what's I dream about when I fall asleep each night and hoping that I'll get read about it in the morning on X17splashnewshiltonisthefadedpink or something like that with wacky, colorful watermarks and graphics on the photos, too.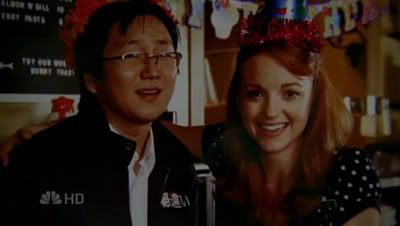 Perhaps the second to worst episode of "Heroes" ever or all the back story you could ever want for shitty storylines that will continue to go nowhere with the inclusion of the new back story. Then again, it was interesting to see perhaps the worst wig in the history of television on Nora Zehenter's head. Another decent part of the episode was the promo for next week where they promised a character would be written off. I want to believe and I strongly hope that they don't pussyfoot around the issue and like kill off the Japanese guy's friend or the Sylar or Claire's Dad. They actually go for the grand slam and take out the Ali Larter character. I know that they won't because to most, normal people, they dig her for some reason. "Oh man, she's hot." Being hot, and I feel rather strange for saying this, is a not strong reason to keep a character around. It's like firing an actor who's not funny from a sitcom; it just makes sense.
The Passion of the Weiss is better than everybody else. Seriously.
Did anybody see "Studio 60" last night and can explain why Howie Mandel and Jim Jones have the same stylist? Sure, Jones may be killing Jay-Z in their beef, but Jay has his number on the fashion front.
Michael Cera may be returning to television.
This is very crucial, seeing that there's very few extremely funny people left on television today and Michael Cera is brilliant.
Speaking of funny people and TV, Ricky Gervais & Stephen Merchant wrote this week's episode of "The (American) Office". That'll be cool.