Social Networking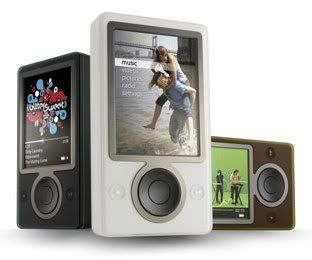 The one thing that I don't get about the whole marketing campaign behind Microsoft's Zune and I'm not saying this because I'm an Apple goon. But at least for me the whole point behind an mp3 player is to be alone with the music. You know, here I am, with my headphones, walking around, listening to whatever. Maybe some Ennio Morricone scores because it makes my life feel like an action film, but that's besides the point. Granted, I'll have conversations with people while I'm listening to my iPod, but that stops after a minute or so. When I realize that it's going to be a longer conversation than excepted. Portable music devices should be for the most part, a singular experience.
Yet with the Zune and it's ad campaign, Welcome to the Social. Which means, apparently, just hang out with other people who have Zunes and talk about how cool it is and actually never use the damn thing to begin with? Causes in these commercials, I never see anybody actually use their Zunes. It's just a bunch of cool kid dancing at BBQs or random concerts by the Eagles of Death Metal. So it seems as if the Zune is a merely device in which one pretends to listen to music on in order to make friends with other people in the same ship? I thought that's what MySpace was for, any ways.
Also one has to wonder with the Zune's capabilities to send music to other Zune users near by, if like guys with shitty demos outside the Rainbow bar are just going to sending their demos to any Zune in the region.