Can't Keep Runnin' Away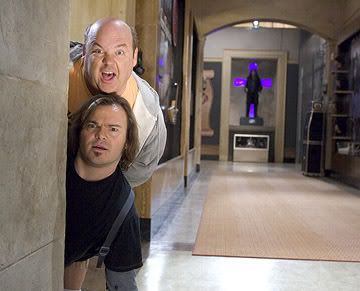 This past weekend,
60 Minutes did a story on Netflix
and it makes a rather valid point about how our collective film viewing habits have changed. People will always continue to go to the theaters to catch a movie because there's just something about watching a Will Ferrell comedy with a large audience that make the jokes work just a bit better. And of course, it goes without saying that one must watch a Terrence Malick film on the big screen, but lately, it just seems as if every other film that I want to watch, I just shrug my shoulders, look at a couple of reviews and simply say, I'll just wait for the DVD. Sure, the timetable between theaters and home video is getting shorter and shorter, especially in terms of smaller films (one could download the new
Morgan Freeman film
in a couple of days). Most normal people with the movies that they're waiting for on DVD will check it out using something like Netflix or whatever video store. A flat fee or like a couple of bucks to check out
Tenacious D: The Pick of Destiny
or
The Fountain
makes sense. Me, I don't make sense because I just buy the films I want to watch because it's just easier to buy a movie, have it there on the shelf and watch it when I want to or if it sucks, take it up to Amoeba and maybe trade it in for something else.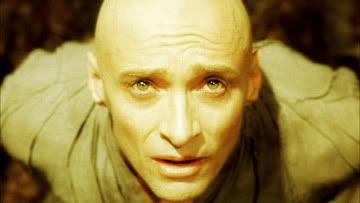 In other words, I think I'm trying to find an excuse as to why I haven't made my way to see both
Tenacious D: The Pick of Destiny
and
The Fountain
yet. Well,
The Fountain
can be explained rather easily; first off, how the film can be some grandiose science fiction epic at a running time of 96 minutes? The only version of
Brazil
that makes any sense is 142 minutes long, but the film still requires a couple more viewings for it all to make sense. Secondly, while the initial hype surrounding the film made it a must see amongst the film nerds of the world. Darren Aronofsky's last film
Requiem for a Dream
was good, so in theory,
The Fountain
should be good. The first trailer for the film gave the impression that the film should be good; lots of quick cuts of cool shots; giving Aronofsky that false sense of being the next Stanley Kubrick, which I'm guilty of doing. It looked like a winner and I spent most of the time between that trailer and the time I saw the second trailer, avoiding any information about the film. I wanted to go in fresh. I did fairly well, but the negative stuff from the Toronto and Venice film festivals changed my feelings a bit. Yet, I saw the second trailer before
The Prestige
and I was just turned off to the whole thing. The dialogue just sounded bad and the visuals didn't seem as cool as watching them on a computer. Not to mention, watching three films with Hugh Jackman in them is just pushing it for me. Maybe the DVD release of the film will actually be longer.
As for the D, irregardless of what people may say about the film actually being funny and what not, the trailer just makes the thing look rather awful. Also, the D works in small doses like the HBO shorts.
Speaking of films and this one can't wait for DVD, the release schedule for David Lynch's latest
Inland Empire
. I may have to break my ban on going to Laemmle theaters or at least their parking lots. I remember seeing a weird Hong Kong movie there a couple of years ago and some homeless guy just came in and snored during the thing. Granted, it wasn't the greatest movie ever, but you know, it doesn't help.
I can't keep up with all of these cool kids trends. Are they playing drunken Jenga with the bassist of the Like?
Or is it drunken Connect Four for a pair of leggings?
Passion of the Weiss
needs to investigate, I think.
Also, shout out to
Uncle Grambo
.

First, there was the Zune and now this. Microsoft just wants to lose the money, I guess as I ironically type this using Microsoft Word.
There's no better gift this holiday season than a copy of Damon Packard's
Reflections of Evil
. It's only ten bucks and the dude also has some bootlegs of out of print classics like Lindsay Anderson's
If....
.
Anybody else been to Tower Records lately and looked through the CDs and DVDs? I mean, most of the good stuff is gone, but it's kinda of interesting to see stuff that internet was going nuts over a year ago. The deals are good, but all of the good Neil Young albums are gone, if you were looking to improve your collection, like I was.
Also, anybody else prepared to be letdown by "Heroes" tonight? Call into
SCEPH
on Tuesday at 9pm Callifornia time to bitch about it.