Point Break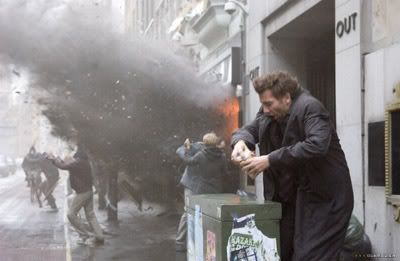 While the film has already been released in Europe and will even be out on
DVD in February
, Alfonso Cuarón's
Children of Men
is still going to be released in America probably in limited release on Christmas and wider release in January. I presume that Universal has held the film back for Oscar consideration, but I'm never known the Academy to be cool with Sci-Fi films even they have breath taking cinematography. I started to forget about this film; the last time I saw a trailer for it was like five months ago. Films like
Dreamgirls
, I hear people talk about it every single day; sure it could be good, but you know, where's the love for a dirty Sci-Fi movie with Clive Owen in it?
Since, school is sorta finished for the year, I think I'll finally make a trip out to the movies. I just have to wonder if any body else is sick of the film,
Dreamgirls
. It's about to become as over hyped as
Borat
was in the beginning. Can't there be hype for another film out there currently? Or at least combine all over the over hyped things about 2006 into one, big shit storm of a film. It's like part
Dreamgirls
but about celebrity babes, so you know one has that whole Suri Cruise angle covered and there could be some bit about racist character actors and I don't know what else. I think that I'm making things worse by talking about the film,
Dreamgirls
, but everybody else needs to ease up on it. I thought nobody liked Beyonce any more, so why all the chatter?
Passion of the Weiss
is putting shame in your end of the year list game. The dude has had a new ten best list every day since last Wednesday. Geez, I can barely find 10 people to do the actually interesting people of 2006, but that list should be coming tomorrow morning if all goes according to plan.
Any movie recommendations for the winter break?