Ignignokt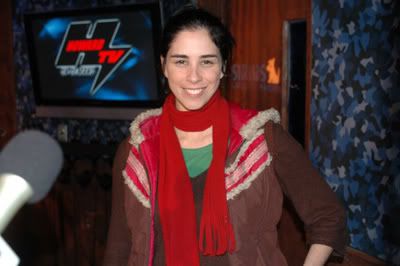 I feel bad because I haven't been able to update as much as I'd want this week. Too many crazy and weird things have been happening over the last couple of days.
These two look like the way I feel or at least have the potential to embody what exactly is going on. Havin' fun, but at the same time, a lil' sketched out
and
this video is the new theme song
. Well, take it back, that was theme song for Wednesday,
this
was a theme song for a rainy Tuesday, but that's beside the point.
If anything, I'm writing only to serve as a reminder to everybody else. First and foremost, especially for those who are L.A. adjacent,
Bus Driver
is doing a free show at
Amoeba
. Maybe there'll be some Cory Klonnedys and Bus Driver will do his smash hit, "The Troglodyte Wins" and the aforementioned Klonnedys might dance in the aisles. Also, one could pick up that Deerhunter album cause apparently, they're now everybody's favorite band. Although, I liked what I heard on
their myspace page
.
And secondly,
"The Sarah Silverman Program"
starts on Comedy Central. Sarah Silverman is brilliant and let's face facts, anything is bound to better the Naked Trucker & T-Bones show.
I know that Coachella is nearly three months away, but it's better early than never to bring up a potential issue/problem. I don't know how many of y'all are going; maybe you're too cool for regular school, but cool enough for cosmetology school and going to Bonnaroo to see My Morning Jacket play for 13 straight hours, but never the less, I'm going on Saturday. The day that both LCD Soundsystem and Ghostface are playing. James Murphy and Tony Stark will be hanging out together, talking about Nietzsche and various other things. This pairing must've been made with the skeet on… empire in mind, but I have to, just have to worry that the individuals who make the schedules will naturally put the two artists on at the same time as each other. I'm not sure if I could be able to make a choice like Sophie's and choose between the cold dead eyes of LCD Soundsystem's Nancy Whang as she sings the chorus to "North American Scum," or "Block Rock" by Ghostface. How does one make a decision like that? Any other band against those two and it would be a no brainer. LCD or Blonde Redhead: LCD, I saw Blonde Redhead once and they blew my mind; "Melody" live gave me chills, but I don't believe that if I saw them again, it'd be that good. Rapture VS Ghostface: Ghost all the way. These are extremely easy decisions to make, but I just hope that they go, "hey, let's not put Ghost on at noon; maybe like 3 and maybe like LCD on 5:30, so rap nerds have a chance to catch what they like.
What wrongs have we done as a society that a show like "Maui Fever" is considered a form of entertainment?