Socks & Slippers
Bullet points until my mind returns to normal.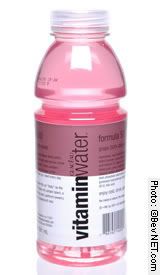 Formula 50
Vitamin Water
is perhaps the greatest 50 Cent has ever done. Way better than "In Da Club," way better than his decision to give Young Buck his own label. It just tastes really good and most likely despite its name; it probably wasn't good for me. I had two at lunch the other day and during the afternoon slump, I thought about taking a stroll and having a third one. It's just grape flavored water, but it tastes really good.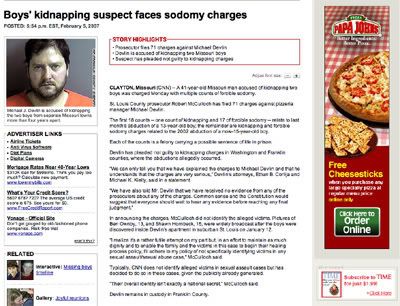 You may have to click on the picture to see the bigger picture, but above is a story on that guy who kidnapped those teens in the Midwest. Any ways, I'm not sure how many of you remember the details about the dude who did the kidnappings; the dude worked in a pizza place. Now don't you think its kind of poor taste for Papa John's pizza to have an ad on a story about a pizza man who kidnapped teen boys who also maybe charged with sodomy? CNN's website probably runs automatic ads without much thought or consideration, but come on, let's think things out.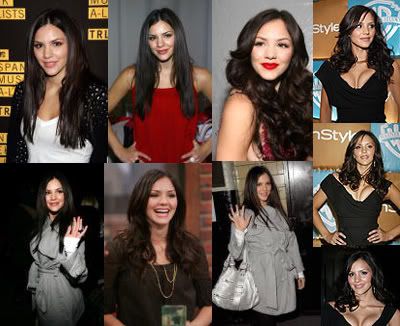 It kinda bums us out when Katharine McPhee hides her boobs and wears the same shade of lipstick as the Joker. Free the McPhee Two!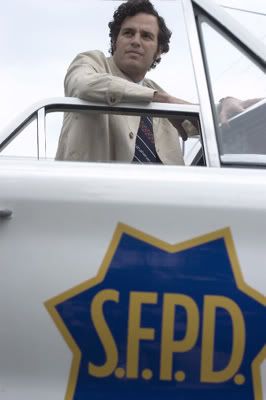 I accidentally saw a trailer/commercial for David Fincher's new film
Zodiac
the other night. I had been purposely ducking trailers and commercials for the film because I wanted to watch the film cold. To me that seems like the best way to watch a movie because there's no expectations. I'm there watching the film because I like past work by the people who made it; not because they played some cool music and had zippy after effects in the thing. Never the less,
Zodiac
looks good; real good.
Everybody should read "What Makes Sammy Run" and do it while they're listening to "Sun Showers" by Bus Driver.
I think I'm just doing bullet points so I can avoid watching "Heroes" and "Veronica Mars." Both shows are bumming me out. Each week at the end of "V.Mars," and to para phrase EL-P: I'm left there, scratching my head asking what just happened. I mean it's not as awful as some one attempting to interview Bam Margera, but for the gold star standard that has been established for the show, it's just really sad. I don't even want to watch it anymore because I just fear that Veronica Mars will be in the middle of some mystery about who give the vegan kids sloppy joes with real meat in them instead of solving the mystery of who blew the school bus. And for "Heroes," I'm not even sure if George Takei can keep me interested and I'm an individual who was watched nearly four hours of raw footage of George Takei for a term paper. The show is not even so bad it's good; it's so bad, it's really bad and I'm just left wondering why I spent so much time hooked into that show? There's only two shows worth watching: "The Office" and "30 Rock," everything else just kinda blows lately.
Does anybody else find hard to not listen to "Triumph" by Wu Tang when they're listening to music on shuffle on iTunes? You know if it starts to play a tune from "Wu Tang Forever" and it may be a good song, but you know, don't you feel so much better by listening to "Triumph" and geek out as you hear Ghostface say, "Yo, fuck that"?