That Wonder Showzen Flow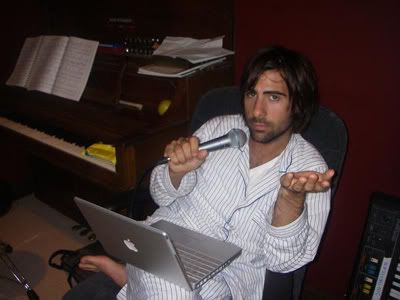 While we may not be nuts over about the other two tunes, it's still rather exciting that Jason Schwartzman is making music again. His
Coconut Records
tune, "West Coast," has quickly become the theme song for my return flight to LBC from NYC on April Fool's Day. It's a grand assumption, but I think it'll be safe to say that. The rest of the tunes sound like old Phantom Planet, which might be a good thing, depending upon your musical tastes. I just interested in seeing the dude play drums live again. Say what you will, but Phantom Planet concerts when Schwartzman was in the band had to have been some of my favorite concerts of all time.
David Gordon Green got another movie stitched up. Bummer part about it is that it's an adaptation of John Grisham book. Never the less, David Gordon Green continues to make movies and this is a very good thing.
It's one thing to support your local scene, it's another thing to support great filmmakers.
Does anybody else think its weird that on Heidi from "The Hills"
MySpace
profile about her music doesn't feature her singing at all? There's some crummy guy rapping, but other wise than that, it's nothing.
Lately, I've been having that burning ears feeling. I remember all the way back to the very first
Garry Shandling
show and there was a moment on the show where he turned the camera and talked about his ear being on fire and that feeling of somebody talking about you. Then smoke started to come out of his ears. I've been having that feeling a lot lately. I've been assuming that it's been a negative as of late; perhaps I've been listening to too much DJ Drama and just assume
Feds are takin' pictures
.
Speaking of DJ Drama, not really, but somewhat related, anybody else the
Lil' Wayne "Top Back" freestyle
? I honestly think that the dude has lost his mind and is on the verge of making a mainstream rap album that'll sound more like the last Mars Volta album.
That new Dntel album is pretty good, too. In particular the song with Jenny Lewis. She's no Sanjaya, but she's still pretty cool. How come none of these hipster rags have gotten her to do an advice column type of deal? She has to give great advice and just imagine all the problems she could solve. From telling you which Willie Nelson album to start with to telling you on how to make the right move on that red headed co worker at the office. Savin' lives and savin' record shopping time.
You guys know your duty, right? Go out and vote for
Sanjaya
on "American Idol" and pick up both LCD Soundsystem's "Sounds of Silver" & EL-P's "I'll Sleep When You're Dead" (You can finally have a copy that doesn't belong to Matthew Snyder (wonder if he's related to
300
director Zack Snyder?) and seriously consider picking up the new Ted Leo album. I know he's flying under the radar, but it's a real protest album.
The only question that remains about the EL-P album is what happened to the jam with Tunde of TV on The Radio on it? I remember he was supposed to be on the last Prefuse album, but his song ended up on the b sides ep.