I Got Grapes aka The Terrorists Will Win aka Oompa Loompas from Beverly Hills High aka The Beat Moves On aka Whoachella '007 Part 1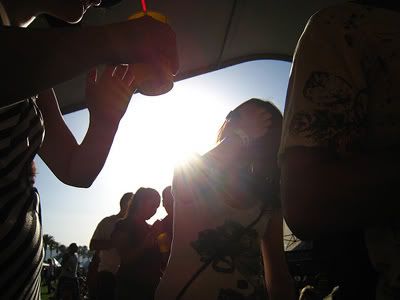 There's a part of me that wants to tell an epic, but at the same time, I've learned that the average attention span can't handle an epic these days. Thank goodness David Lean isn't making movies anymore. Not to mention at the same time, it just takes too long to write an epic. We barely have time to bleed these days, so where's the time to squeeze a few thousand words about standing in an oven next to some shirtless guy with a nasty sun burn working on his fifth cigarette in about ten minutes and some barely dressed Oompa Loompas from Beverly Hills High are sneaking their way to the front of the stage. In a nutshell, that sums most of my Coachella experience.
It wasn't a total wash. There were moments of sheer bliss and most importantly, fun. Then there were moments of sheer frustration and extremely discomfort. It was a mixed bag with mostly good. Spending quality times with friends is always time well spent and throw in a mind-blowing set by Justice; it's pretty much the definition of a good time.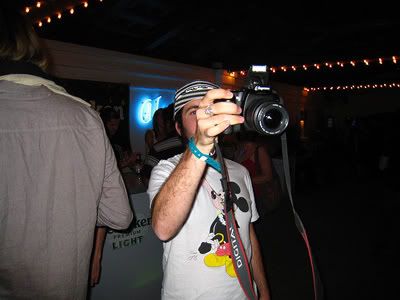 So, Thursday night, I went to the Filter pre party, which was weird cause I'm never cool enough to go at an event such as that. You know, free booze cause we're young, hip, cool and have a disposable income. I'm not used to that type of thing, but you know a free Heineken light is a free Heineken light. And you know I'm not used to being at a functions where people like Sarah Morrison and Cory Kennedy and the Cobra Snake and Cory Kennedy's much cooler sister, Chris Kennedy are at. I can't make conversation with cute girls on coke while waiting in line for the bathroom. "I like this song." "(sniff)Yeah, me too. I like the Gossip (sniff)." I want to talk about how to turn a book like "Then We Came to an End" into a successful script and Alejandro Jodorowsky movies. I can't keep up with these cool kids. I mean if it wasn't for that conversation with that girl while waiting in bathroom, I would've never known that the Gossip was the people behind a song that I like. Then again, there was free beer, so it even its self out. Although, it should be noted that I did happen to run into the very cool and extremely friendly ladies of the
Coachella 2007 Y'all
blog. We talked about how much better New York City is in comparison to California. I'm a So Cal kid until I die, but New York is better.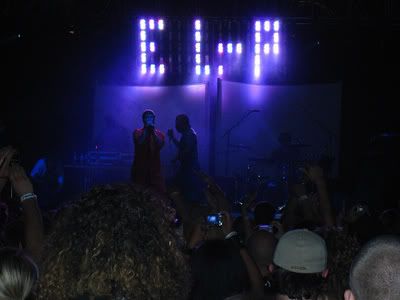 Then there was Friday, which well, the less said the better. Not that it was a horrible day of music or anything, but everything that could go wrong went wrong. The day started out fine. Got a decent amount of sleep and woke up in a enough time to catch Alec Baldwin on "The View," and spent the rest of my morning saying, "Of course, I'll bring your ballet shoes." Yet as we left the condo for the polo grounds, the gods must've been pissed at me. I just sat in traffic for what seemed like hours. Granted during this traffic jam, I discovered the magic of
Marnie Stern
, but I missed Flosstradamus & Kid Sister and a majority of the Comedians of Comedy. Traffic wasn't the only thing that prevented me from seeing those particular acts, the security was a major roadblock. You would think after doing these things off and on for nearly 10 years, that there would be a guide book as to how they run and operate the security inspection and ticket taking, but maybe it's the curse of the first day and I should've just said, "it's their first day," but you know when you're standing in 100 degree heat, already sweating like a televengist who had an affair with Jessica Hahn and bummed that you missed Kid Sister and Aziz Ansari already, it's my first day just doesn't work. After what seemed it like an hour, we finally make it through and rush over to the C of C to catch Zach Galifianakis, who was amazing followed by Brian Posehn, who was just as funny. Of course, Patton Oswalt was the closer and he was killing it. The material was new to me and just brilliant, but my stomach disagreed and I got the sickies. So I had to run all over the place to find the bathrooms and it was just bad business. At that point, I thought, maybe I should go back to the Condo and claim Danny Glover status, but if I had, the terrorists would've won. So I sucked it up and just sat on the grass and attempted to get into Of Montreal. Just wasn't for me, I tried, but no dice. So, went over to get a spot for Amy Winehouse and basically had the sun directly on my back for forty minutes while some fat duffer in front of me lit up a cigarette.
Maybe its because I don't smoke cigarettes, but I am an extremely self centered individual, so I understand the notion of meeting your needs and demands before anybody else. Yet is nicotine that addictive that you just have to have a cigarette while in a room that is so crowded and filled with sweaty bodies that there needs to be a new word to describe it. Not to mention, its 100-degree outside and probably a 110 degrees inside the fucking tent. If nicotine is that addictive, then it needs to be outlawed or at least there should be a little smoking corner. Am I the crazy one?
In addition, to me, it just seemed that the kids just used Coachella as a place to smoke pot. Music was an after thought, but getting baked was the main priority. Like I said, Danny Glover status.
Back to Amy Winehouse, watched about twenty minutes of it before I got sick again. She was great. She was cute and tiny and has a great voice. I was pleasantly surprised. Yet I would not let the terrorists win, so I decided to go to the first aid tent and got some help. Basically some electrolytes packets and just laid down on a cot for a couple. Missed the Chain cause I was looking for my friends. Finding the people that I carpooled with sorta triumphs seeing "Just Like Honey" live. So, the rest of Friday night went okay. Saw Bus Driver, he came through in the clutch like David Ortiz. Saw EL-P; he wants to be like Trent Reznor, but it was good. He played all the jams.
Then there was Bjork. I like Bjork a lot and thankfully, she played all the hits. Not a set full of new stuff that would have our heads scratching. It was great and I've finally seen Bjork perform live, but as I was sitting on the grass by myself. I wished I was at a place like the Hollywood Bowl instead. You know wearing some pants and a fancy shirt, have a nice bottle of wine, some good food to eat during the show and just sit back and enjoy it. And to make matters worse, DJ Shadow was at the same time and in between songs, I could faintly hear in the distance a song that meant a fucking lot to me at one point or another in my life. To make matters even worse, after Bjork's encore, Shadow breaks out "Organ Donor". It was as if Josh Davis was stabbing me in the back with that one and to add insult to injury, as we were leaving, he starts to play "Midnight in a Perfect World." It wasn't fair.