Stray Cat Rock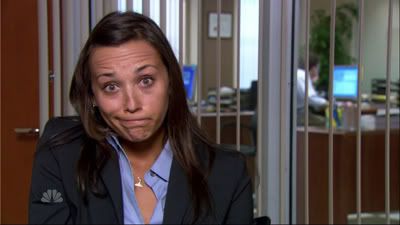 For the past couple months, I've been biting my tongue. I'm not a big fan of biting my tongue, but it seemed in my best interest to hold tight. Take that back, I haven't been biting my tongue on rather lengthy MySpace bulletins and text messages. So if you had extra special friend privileges, then you'd be more than familiar with my tales. Yet, I can't hold my tongue no longer on a particular manner. Lately, I've been seeing a lot of famous people and it only makes sense when you're interning at a major movie studio. It was bound to happen and happens on a fairly regular basis. Generally, when I see some body that I'm a fan of, I get excited and carefully whisper to another person, "that's such and such," and after the person passes by, I pull out my cell and send a note to what ever friend I think would be the most jealous that I saw such and such. I want to say something, but I'm never sure as to what I should say to these people. I don't want to bug them or freak them out, but after four months of saying nothing, I finally said something to Rashida Jones and Craig Robinson aka "Karen" and "Darryl" from "The Office". I saw the two of them hanging out and the Safety episode had aired the night before and lately, the character of Darryl has been kicking a lot of ass. The situation called for me to say something. How often do you get to run into cast members from one of the best TV shows, let alone, the night after an episode where one of those individuals had some great jokes? I had to say something, I just had to.
Granted, I didn't say anything profound to them. I get star struck rather easily. For example, I will treat my friend completely different because
a portion of her has been photographed with a portion of the world famous Sarah Morrison
. So, now in my book, she's famous or at least a small portion of her is famous. I'm easily impressed and have a limited vocabulary, plus I was coming back from getting a delicious organic sandwich (get into Bag Ete, please!) and listening to
"Dirty South Dance"
. Yet as I walked by two people who actually make the week worth getting through, I had to shout/say/yell, "Good show last night!" and probably give the thumbs up. And they were so cool about it and very appreciative and threw the thumbs up back at me. Rashida Jones is like really hot in person and has a really great smile. So yeah, that's my celebrity sighting.
Also, a month or two ago, I think I saw Roy from "The Office" as well, but you know, it's Roy. He never says anything funny.
So, I basically take three weeks off from the world and a big mess of singles trickle out onto the intranet. I guess, there's a new T.I. song, but I haven't heard that yet, have you? And there's "International Player's Anthem" by UGK & Outkast, holy smokes! What happened to Andre 3000 and where was this dude when they released "Idlewild" last summer? First, there was his first verse on Devin The Dude's "What A Job," which by the way, still remains the best rap song of double O seven thus far, but Andre3000's intro on "International Players Anthem" feels really honest and is funny. Then there's this Yung Joc song, "Coffee Shop," (see this week's song of the week) is probably the dumbest song ever recorded especially with Joc sounding like a diet coke version of Young Jeezy. But, that beat and the hook is insanely catchy; I will find myself within the next couple of days singing, "at the Coffee Shop." And then there's this song called "And I Love You," by Rich Boy, which further fuels the fire that I have horrible taste in music or maybe, I just like tunes that make my car go boom when I have that rare moment when I can drive fast on the freeway.
In case, you were wondering exactly how awful my taste in music is, you can stalk it at
last.fm
. Find out exactly when the last time I listened to "Girlfriend" by Avril Lavigne. What? It's a pretty good song and she's like two feet tall. Her height has nothing to do with her musical ability, but it's funny to see her stand around other people.
Andy Samberg and Shia Lebouf have finally made me laugh. To be honest though, I'm just baffled as to how
Disturbia
made all of that money. I guess it pays off to make ultra safe thrillers for the pre teens. Not to mention, it probably doesn't hurt the film runs less than two hours either.
In case you were wondering, the empire does not support the splitting and potential re release of
Grindhouse
. Splitting them on DVD is okay because I won't have to make that awful decision of where should I place the film: in the 'R's or in the 'T's? I organize my collection by director and year of release.
For those who've never been, this sorta reminds me of New York City, but like you're going to run into another girl who may be equally as hot or hotter like 5 minutes later or at least a couple of blocks later or on the train. Also, they don't look as against the law as they do in California
.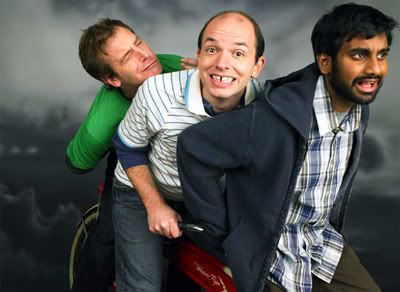 MTV's
"Human Giant"
is pretty funny and all, but has anybody else notice that it seems as if Paul Scheer in every skit is wearing a hat of some type. Why can't he be bald?