Win Place Show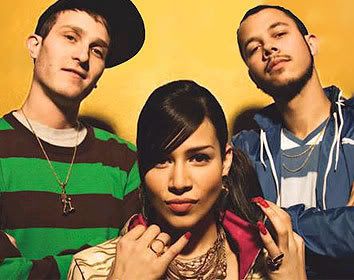 So, this Coachella thing has very much been on my mind lately. I've been able to sleep somewhat at night, but there's been a lot, like a lot of tossing and turning. Yet during the dull drums of a Wednesday afternoon spent in an office, I've finally made up my mind on who exactly I want to see at Whoachella '007; Friday and Saturday though. While generally I don't have any class, I oddly have one on Monday. So, if you're going to be there and have an awkward and most likely extremely uncomfortable conversation with your humble narrator, then check out the following.
A small side note, while I feel that this list should be set in stone, it may greatly change due to the fine folks who program the festival.
On Friday, I plan on seeing…
-Bus Driver. If you've been keeping score since like December, you would know that I'm madly in love with Bus Driver's latest album, "Roadkillovercoat" (pick it up if you haven't yet, dude. DJ Nobody has beats for days & weeks). I've seen Bus Driver a couple of times live and his shows are a lot of fun.
-Flosstradamus featuring Kid Sister. It may be too warm to wear a super expensive multi colored hoodie, but it doesn't mean I still can't enjoy the music.
-EL-P. The dude released "I'll Sleep When You're Dead," nuff said; Stan Lee status.
-The Comedians of Comedy. I can only imagine a majority of their various sets being drowned by the noise from a band like Circa Survive or I don't know what, but Patton Oswalt is one funny dude.
-DJ Shadow. Okay, so his last album was kinda 'meh' but he still could be interesting. Maybe he'll just play "Midnight in a Perfect World" as the sun sets in the desert.
-The Jesus & Mary Chain. I'm not the biggest fan in the world. Honestly, I just want to hear "Just Like Honey."
-Amy Winehouse, but like for a song and to see if her hair can with stand the heat and to see if Perez Hilton is on the side of the stage eating all of the food.
-Interpol. I dunno. I like Interpol.
-Bjork. I like Bjork, I dunno.
On Saturday, I plan on seeing…
-the Arcade Fire cause they're the Arcade Fire and the chances of me getting tickets to their shows at the Greek are slim to none unless my name is Getty as in the Getty.
-The Good, The Bad & the Queen. A bunch of English dudes playing some dub stuff, rad.
-LCD Soundsystem. I love me some James Murphy.
-Blonde Redhead. I almost don't want to watch them because the last time I saw them it was so great and I just assume that any other time I see them, its going to be on par with that night at the Glasshouse in April.
-Hot Chip. My friend saw them by himself and said it was one of the best show he's ever been to. Plus, you know, I need to drop some LBS and I figure dancing in the desert to "Over & Over" will do the trick.
-Ghostface. Sure, I could've seen Ghost countless times at much closer venues, but to have the ability to see James Murphy & Tony Stark in the same day is absolutely priceless.
-Peter, Bjorn & John. I figure this is where the girls are going to be.
-Justice. If they don't play "Phantom," then the entire trip will be in vein.
-The Black Keys. They're probably monsters in the sack and on the stage.
If you have any suggestions of who I should check out, I'd love to hear them…
Also, what's up with "South Park" doing back to back Zach Snyder movie paradoies?