Roof Top Pop Top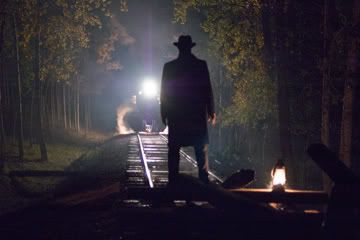 Don't let its running time scare you away. Don't let the fact it's a western scare you away. Don't let the fact it's a film starring Brad Pitt and Casey Affleck scare you away and for heaven's sake, don't, I repeat, don't wait for the DVD release. Andrew Dominik's
The Assassination of Jesse James by the Coward Robert Ford
is one of those films that demands to be seen on the largest and best movie theater humanly possible. With the direction that film industry is going or at least will be going within the next few months; a rush to crank out enough product just in case there's a strike and everything shuts down for a few months. Not to mention, the ever-dwindling window between theatrical release and the DVD packed to the gills with bonus features that we and let's be honest here, we never actually watch all of those features. It's beyond refreshing and extremely rewarding to be watch a film like
Jesse James
because it's a film that isn't a rush to tell its story or feature the latest hit songs from the radio in between every other scene and perhaps best of all, a cast, well a majority of a cast that'll and thankfully never appear on a website like Perez Hilton cause they're brilliant actors.
I've had a few conversations recently about films from the mid to late 60s that sort of sneaked out of the studio system of that day. That weird period where films like
Blow Up
and
Bonnie & Clyde
sneaked out of the studio system around the same time as films like
Skidoo
and
Beyond the Valley of the Dolls
sneaked out of the studio system as well. The major studios attempting to capture that counter culture, hippie dollar. Now, that I'm not implying that
Jesse James
is a weird, hippie movie, but it feels that this film just managed to sneak its way through the system. Granted, the film is being treated like a grenade dosed in AIDS by the studio, but that's beside the point.
Jesse James
is a film that washes over the viewer; taking whatever the eye allows to capture.
It's becoming a rather clichéd statement to make, but Andrew Dominik made a film that is on par with the works of Terrence Malick. It's also just an easy way to say that it's a film that's all about beautiful cinematography and nothing else. If anything,
Jesse James
in tone and style is more akin to Kubrick's
Barry Lyndon
.
Lyndon
and
Jesse James
are literal adaptations of their source materials that refuse to present loose ends, illogical endings and most importantly weren't made with the inevitable DVD release a few months later in the back of their minds. Easily,
The Assassination of Jesse James by the Coward Robert Ford
is one of my favorite films of the year thus far. It's just a rich and beautiful film that I can't wait to see again.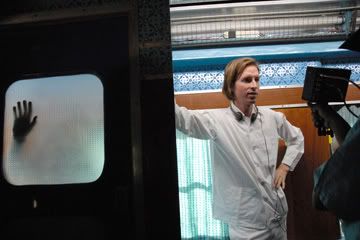 Have to catch up on the rest of my movies before I watch anything for a second time. Still have to watch
Into the Wild
and that new Wes Anderson film. I don't know why, but I'm dreading
The Darjeeling Limited
. I know that there's a point where in some director's careers were we break up. Steven Soderbaugh and me broke up after
Solaris
, but then he did
Bubble
and I thought we were going to get back together, but then there was
The Good German
. I believe that this is the film where I just throw my hands up and wonder if Wes Anderson has any tricks in his bag or we as the audience seen all that he has to offer? I wish that Paul Thomas Anderson would pull Wes Anderson aside and talk to him about switching it up a bit. Maybe it's time for Wes Anderson to take a break from writing his own material and direct somebody else's script. Inject his style and vision into someone's else world. I think we should all collectively send him a memo that says: "Kanye said that Fifty said that Banks said, 'Go ahead and switch the styles up. And if they hate, let them hate and watch the money pile up'."
Speaking of films made with the DVD in mind, I was checking out some of the extras on the
Knocked Up
DVD, I just have to say that Judd Appatow wants to give people the biggest bang for their buck.
Other films that I've seen recently include:
-
Eastern Promises
; Completely indifferent to it. There are things that are great in it, but there are also a lot of things that left me scratching my head. It doesn't really add in my head. Love Cronenberg's films. Love Naomi Watts. Steven Knight is an excellent writer, but it just doesn't come together in the end.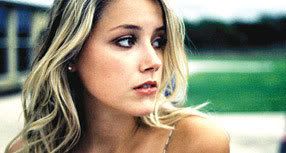 -
All the Boys Love Mandy Lane
; Why did the Weinsteins dump this film? Why couldn't they release it this past summer? Because there's no brand name recognition with the title of the film? It's not a
Saw
or an unnecessary remake of a horror classic? Instead, it's this crazy thing called an original idea. I mean, it's not the most original idea in the history of horror movie. Perhaps, I should say an interesting take on the modern day slasher picture. Amber Heard is great as Mandy Lane. Beautiful cinematography. Just a nice change of pace from horror films about people being tortured in dank basements.
-
The Kingdom
. It's kind of slow, but I liked the last twenty-thirty minutes of it.
-
Manda Bala aka Send A Bullet
is probably on par with
No End In Sight
as the best documentary of the year and one of the year's best films. Seek it out.
I tried to put a ringtone I made of Slayer's "Raining Blood" on my iPhone and my phone crashed or something. Perhaps, the devil isn't down with the iPhone or vice versa?
I paid a buck to preorder the new Radiohead album. Is that too little? I dig Radiohead and all, but I'm beginning to feel that I didn't pay enough for the album. Radiohead has given so much over the years and I've given so little back. It's at times like these days, I wonder what would Ryan Sheckler do?
I was thinking about Britney Spears and how she had her kids taken away from her and all. She wasn't meant to have to kids, but she did. Spears is so wrapped up in her own world that she barely has time for her kids other than an bizzaro photo op clutching onto a baby outside of a boutique on Robertson. She never engages in any baby talk or any real mothering. It seems as if she never takes these children anywhere they'd enjoy. Now if you look at someone who's as melodramatic and as egomaniacal and as business as Britney Spears, like Ryan Sheckler, star of MTV's and one of my favorite shows, "Life of Ryan." Now, he manages to make time for his younger brother in his beyond hectic life as a professional teenager and as a professional skateboarder. He takes the little dude to Legoland and has a great time.